Faculty and staff
What can you do to help your students? How can students prepare for their careers?
VCU Career Services is currently short-staffed and will not be able to fulfill one-time program and workshop requests outside of specific classroom presentations with faculty and pre-scheduled events with campus partners at this time. If you would like to make a formal presentation request for this semester, please fill out our Request a Presentation Google Form and someone from our team will be back in touch with you within the week. We ask for at least two weeks notice prior to any program so we can assign a staff member and they can plan appropriately. We thank you for your patience and look forward to working with you again soon.
We recognize the powerful impact VCU faculty can have and we want to be your partner in the success of VCU students. We have a shared desire to prepare VCU students to enter the world of work as highly sought-after professionals.
We know that you've got a lot on your plate. Maybe you know how to help students, but you don't have the time to work with them one-on-one. Or maybe you have students asking questions about the job market that you're not quite sure you have the answers to.
Resources for faculty and staff
We understand that as faculty members you are interested in teaching students both in and outside of the classroom. You recognize that the student's journey doesn't end at graduation. You also know that success in the workforce requires that your students understand more than what they learn in class.
So how can you prepare your students with the career competencies that today's employers are expecting? What are the critical career skills your students need for success? Look over our career curriculum information below to learn how to integrate career development activities into your syllabus.
For additional information or consultation, please contact Haley Sims, hgsims@vcu.edu, senior associate director of career advising.
Career Curriculum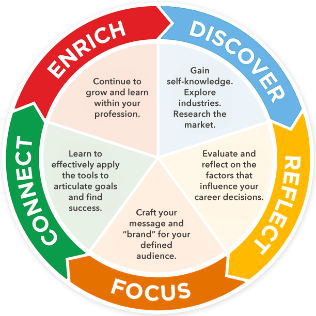 Implementing career development into your courses
As your partner in preparing students for personal and professional success, we have created a series of easy-to-implement career development exercises for your courses. Our activities are based upon 11 primary career-related learning goals that align with our advising model and with the mission, vision and existing outcomes of the university.
These learning goals were identified with the intent that all students participating in career-related courses would achieve these goals by engaging in activities and assignments meant to foster active consideration and exploration of career opportunities.
These activities are part of a collaborative effort to:
Assist staff and faculty in developing career-related courses.
Ensure that students are acquiring core professional development knowledge essential for post-graduate success.
When creating a course syllabus, it is important to take into account how the 11 primary career-related learning goals are directly measured. In other words, each learning goal should have an assignment or activity that measures whether or not the student achieved the goal.
How to implement these activities in your courses
Each of the career-related learning goals and specific student learning outcomes is outlined Career Course Activities Workbook. For additional consultation or assistance, please contact Haley Sims, hgsims@vcu.edu.
Exercises based on our advising model
Discover
Gain self-knowledge. Explore industries. Research the market.
Reflect
Evaluate and reflect on the factors that influence your career decisions.
Focus
Craft your message and "brand" for your defined audiences.
Connect
Learn to effectively apply the tools to articulate goals and find success.
Enrich
Continue to grow and learn within your profession.
Interview Prep
What is InterviewStream?
Whoever said practice makes perfect had Interview Prep in mind. Interview Prep is a web-based video interface that allows a student to practice for an interview, rehearse an elevator pitch or improve their public speaking. Utilizing a webcam and a microphone, students respond to a series of pre-recorded interview questions from their computers. Students are recorded and are then able to review their responses.
We use Interview Prep frequently to assist students with preparing for interviews, eliminating the dreaded umms and ahhs from speech, and helping non-native speakers feel more comfortable interviewing in English.
How you can use Interview Prep
As a faculty member, you have the ability to create your own account. Once you've created an account, you can select pre-recorded questions, record your own custom questions and then review view student responses at your convenience and provide feedback.
Getting started
To learn more about how to incorporate Interview Prep into your curriculum, contact Melinda Snyder at mwsnyder2@vcu.edu.
Resources
Check out our guide to Creating Assignments in Interview Prep.
Career Development Collaborative
The Career Development Collaborative is a career community dedicated to equipping faculty and staff by sharing resources and advancing our practice and ourselves as career development facilitators to provide excellent support to students. This group is a resource for both people in career development roles and those who want to be in career development roles. All are welcome!
The Career Development Collaborative hosts four meetings a year:
Fall
Winter
Spring
Summer
Members of the Career Development Collaborative are invited to join our Blackboard organization page where we share information about resources, past and upcoming meetings.
For information on our schedule of meetings, upcoming topics and how to get involved, contact a member of our executive board:
To sign up for the Career Development Collaborate listserv, visit the VCU listserv subscription page.
To learn more about Career Communities visit the VCU Human Resources website.